zaterdag 29 augustus 2015
The ObnoXious + Get Some + From The Heart
Hardcore
StudioGonz organiseert eind augustus een hardcore avond met The ObnoXious, Get Some! en From The Heart!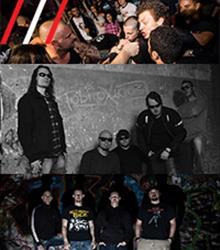 StudioGonz
Zaal open: 21:00 uur
Aanvang:
Deur sluit: 01:00 uur
Tickets Niet-leden:

€6.00


Tickets Niet-leden VVK:

€4.00



Tickets Leden VVK:

€2.00




Voor deze avond kan je de energie dranken laten staan, want deze bands zullen je overspoelen met zoveel energie dat je nog nooit hebt meegemaakt! Keiharde muziek, een goede sfeer en pits. Deze drie dingen zijn gegarandeerd voor deze avond!
The ObnoXious: http://www.theobnoxious.com
Get Some: https://www.facebook.com/GetSomeHardcore
From The Heart: https://www.facebook.com/From.The.Heart.hc
Facebook-event:
https://www.facebook.com/events/1657016951195671/