vrijdag 16 oktober 2015
ROCKSVILLE
Powerful and melodic cocktail of poprock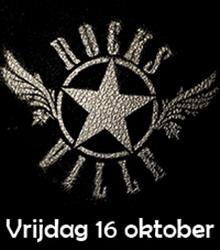 StudioGonz
Zaal open: 21:00 uur
Aanvang:
Deur sluit: 01:00 uur
Tickets Niet-leden:

€5.00


Tickets Niet-leden VVK:

€3.00



Tickets Leden VVK:

€2.00




ROCKSVILLE: Powerful and melodic cocktail of pop and rock!

De formatie ROCKSVILLE maakt stevige gitaarmuziek, maar schuwt ook de lichte zijde niet. De band zoekt de grenzen op van de popmuziek en stevige rock, wat live solide en dik uit de verf komt. Met inmiddels een flinke live reputatie in het lokale clubcircuit en de landelijke festivals begint ROCKSVILLE aardig op stoom te raken.
Facebook-event:
https://www.facebook.com/events/1613875682212698/