zondag 22 november 2015
Brett Newski
Singer/Songwriter
Amerikaanse Singer/Songwriter op een heerlijke Lazy sunday afternoon!
Lazy Sunday afternoon superdeal!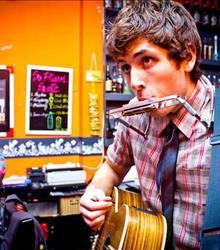 StudioGonz
Zaal open: 19:00 uur
Aanvang:
Deur sluit: 01:00 uur
Tickets Niet-leden:

€5.00


Tickets Niet-leden VVK:

€3.00



Tickets Leden VVK:

€1.23




De Amerikaanse songwriter en entertainer Brett Newski, ook wel vergeleken met Violent Femmes, Frank Turner, Jake Bugg, and Billy Bragg, reist met zijn gitaar de wereld rond en strijkt zondag 22 november 2015 neer bij StudioGonz in Gouda. Newski heeft via de raarste omwegen hard moeten werken voor zijn cariere, of zoals hij het zelf benoemd; 
"I moved to Vietnam after becoming jobless, band-less, and girl-less in 2011. There, I wrote nearly 100 power-folk songs in the steaming city of Saigon for my latest release American Folk Armageddon." 

Newski speelt nu meer dan 200 shows per jaar, waardoor hij heeft gestaan in o.a. The Boston Globe, NoDepression, Rolling Stone S Africa, Guitar World, and Blurt Magazine.