vrijdag 26 augustus 2016
Bottles of Love+Mexican Surf+The Brave
Hyper/garage/surf-pop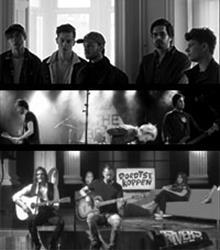 StudioGonz
Zaal open: 21:00 uur
Aanvang:
Deur sluit: 01:00 uur
Tickets Niet-leden:

€5.00


Tickets Niet-leden VVK:

€3.00



Tickets Leden VVK:

€2.00




Een hyper-surf-garage-pop avond in StudioGonz met drie hele toffe bands: Bottles of Love, The Brave en Mexican Surf! 

Met een bonte mix van knuffelrock, punk, big-band en de jaren 80 maakt Bottles Of Love, na 4 jaar van schrijven in een kamertje van 4 bij 4 meter, in 2016 zijn debuut.
Vrolijkheid en catchy-ness waren de leidraad, een lach en traan het gevolg.

The Brave is een enthousiaste rock 'n roll band uit Utrecht die vol overgave een leuke show neerzetten.

Mexican Surf is een vijfmansformatie uit Oss die nu een jaar bestaan. Na verschillende optredens in Oss en Groningen doen ze nu Gouda aan. Ze zijn veel belovend dus kom ze checken!
Facebook event: https://www.facebook.com/events/1260277754006548/