zaterdag 17 september 2016
DiTCH + Rise of the Wood + Stone Golem
Stoner rock avond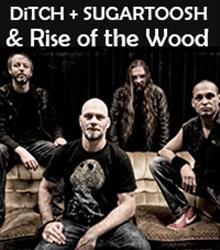 StudioGonz
Zaal open: 21:00 uur
Aanvang:
Deur sluit: 01:00 uur
Tickets Niet-leden:

€5.00


Tickets Niet-leden VVK:

€3.00



Tickets Leden VVK:

€2.00




Gave stoner desert rock night avond met:
Ditch, Rise Of The Wood en Stone Golem.

Ditch is a down-tuned band of heavy gritty rock affectionado's who play some KYUSS infused songs.

Rise of the Wood staat naast muziek ook een leuke partij humor klaar. Een echte live sensatie!

Stone Golem
laat zich het beste omschrijven als een zandstorm van laag gestemde rock riffs,
afgewisseld door kalme beekjes van psychedelische en blues georiënteerde muzikale landschappen.
Facebook event: https://www.facebook.com/events/1589361968033214/?active_tab=highlights