zaterdag 7 april 2018
18 Miles + Ashes + Dock 83 + Raven Called Sin
Hardcore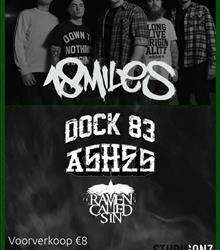 StudioGonz
Zaal open: 19:30 uur
Aanvang:
Deur sluit: 00:00 uur
Tickets Niet-leden:

€10.00


Tickets Niet-leden VVK:

€7.00



Tickets Leden VVK:

€5.00




18 MILES
Spawned from the muddy and windy Netherlands, 5 piece hardcore band 18 MILES is raging with their own furious, hardhitting twist of modern hardcore. Known for their pumping energy and positive message 18 MILES has been breaking stages since 2010 all across Europe. With their third record "Revive" 18 MILES brought a whole new dimension to heavy music, pushing you to the edge of your seat.

ASHES
Ashes is a vibrant four-piece hardcore band hailing from Leuven, Belgium. Since the start in 2012, they are playing and touring non-stop. With the release of their second 7" No Compromise, they went intercontinental to South Africa. After playing +200 shows, their first full CD, 'Lost in a Haze', will be released this summer through Farewell / Genet Records. Expect energetic riffs and hard hitting drums, finished with smooth basslines and an honest & agressive vocals. Hardcore music made for the kids, by the kids!

DOCK 83
Dock 83 is a (Melodic) Modern Hardcore band founded in Utrecht, The Netherlands. The band is known for their energetic performance and atmospheric shows since 2013. The mix of brutal emotional vocals, hard-hitting drums and melodic riffs create an unique sound that anyone who likes heavy music can enjoy. With their latest full length album ''Ceylon'' Dock 83 shows how creative and diverse Modern Hardcore can be.
For fans of Stick to your guns, Counterparts, Hundredth and Parkway Drive.

RAVEN CALLED SIN
"And God made Eve from the rib of Adam. And Eve was weak and loosed the Raven on the world. And the Raven was called Sin." (Carrie-1976). Raven Called Sin expresses the sins of humanity in the current society on this World. The lyrics of front man Dylan Lammens reflect the painful truth like a mirror on our society. Not only the lyrics, but also the music will grab the listener by the throat. They create a wall of sound with their professional production, staccato grooves and progressive drum beats. On top of that they unleash sweeping guitar melodies, growling bass riffs and antagonized vocals. 
Facebook event: https://www.facebook.com/events/333691130437688/