donderdag 12 april 2018
Weatherstate (UK) + Mountains To Move
Punk / Rock / Emo
Vanavond luiden we het weekend in met 2 bands!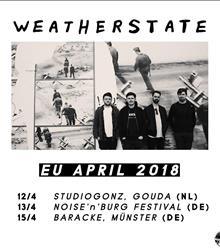 StudioGonz
Zaal open: 20:00 uur
Aanvang:
Deur sluit: 00:00 uur
Tickets Niet-leden:

€5.00


Tickets Niet-leden VVK:

€3.00



Tickets Leden VVK:

€1.00




Mountains To Move
Your girlfriend's favourite boysband.
Mountains To Move blend emotionally filled clean parts with wall breaking heavier choruses, to which you can bang (or hang) your head. The heartfelt lyrics illustrate the personal struggles and anxieties of an individual lost in a world that spins too fast under his feet. Captivating, yet haunting you to the deepest core of your heart.

Over the last two years, Mountains To Move have been making quite a name for themselves. Their demo 'What Ifs and Could Have Beens' earned them a lot of shows all over Belgium, from smaller shows to support slots for bands such as The Front Bottoms, You Blew It!, Foxing and Tigers Jaw. With their debut EP 'Cotard' they went the extra mile, earning raving reviews from all over. Their live show is the perfect compliment to their music.
Weatherstate
Band uit Bristol (UK) met Harry Hoskins, Joe Hogan, Toby Wrobel, Callan Milward.
Facebook event: https://www.facebook.com/events/2024278074499340/