zaterdag 9 juni 2018
Buried + Man as plague + Iron Harvest
Metal
Deze avond 3 metalbands op het podium.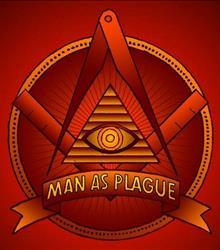 StudioGonz
Zaal open: 21:00 uur
Aanvang:
Deur sluit: 00:00 uur
Tickets Niet-leden:

€5.00


Tickets Niet-leden VVK:

€3.00



Tickets Leden VVK:

€1.00




Buried
Buried is a death metal band formed at the end of 2012 with bandmembers from bands such as Pyaemia, Disavowed and Traktor. The band existed for a longer time under the name of Traktor, but with the entrance of Erik-Jan de Waard on Bass, Robbe V. on Drums and Joel Sta on vocals, the entire sound changed. From that point, the band decided to go further under a different name, that suited the changed musicstyle better. Buried was born.

Soon after this they started writing new material and recorded their promo "Tenebrous", which was received excellently. Buried was asked to play at the famous Neurotic Deathfest (4th of May 2013) alongside bands such as Carcass, Cryptopsy, Cattle Decapitation and many, many more. Also Buried was the opening act for the Rotterdam show (21st of May 2013) of Suffocation during their World Tour 2013.

The combination of technical guitar and lots of slapped and tapped bass over Robbe V's brutal and legendary drumstyle and Joels deep grunts and sick screams makes the bands' style unique and fresh. It forces a crowd to listen and get pulled into the music and catches their attention straight away.
Man as Plague
Man As Plague is a 4 piece metal formation from the Netherlands created back in 2011. Not wanting to adhere to 1 type of metal they use influences from all over the metal spectrum. Hardcore, deathcore, death metal, it is all mixed together in one brutal form.

Since their formation Man As Plague released 3 EP's and 4 video clips. "The Frail Compass" is the band's latest release and can be found on all digital media platforms.

Playing live is what Man As Plague is all about, high energy, grooving breakdowns, and a massive wall of sound and energy. Spreading their plague ever further…….

A unique sound, coupled with one hell of a live act. This is one band you don't want to miss!
Iron Harvest
Death metal from Utrecht featuring members and former members of Weltschmerz, White Oak, Verval, Apotelesma, Wrang, Nevel, Wesenwille, Soulecy and Grafjammer
Facebook event: https://www.facebook.com/events/204743650129346/