zaterdag 23 juni 2018
Scarcrow + In Control + Boskat
Alternatiive / rock / metal
Een lekker afwisselende alternatieve avond met 3 geweldige bands.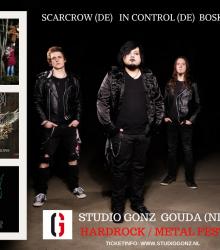 StudioGonz
Zaal open: 21:00 uur
Aanvang:
Deur sluit: 00:00 uur
Tickets Niet-leden:

€5.00


Tickets Niet-leden VVK:

€3.00



Tickets Leden VVK:

€1.00




SCARCROW:
Something wicked this way comes again….
The Hard Rock/Metal Band from Black Forest, Germany released their Debut-EP "A MURDER OF CROWS" under the label "Scream" (TopX Music) on November 26th 2016.
The four guys stand out by their well-chosen outfits, which reflect their music very authentic. The mystic, scary but also charismatic vibes of the Leadvocalist accentuate the musical performance of the Band. In some places the songs recall a cross of Dio, Alice Cooper and Black Sabbath, whereby newer elements in the songs let this mix sounds "fresher".
IN CONTROL:
The five people strong Band has managed to create an incomparable sound - coupled with an distinctive stage show - based on their own songs of course.
Their own music style belongs to the genre alternative rock an provides loyal fans and local headlines.

BOSKAT:
Antwerp based BOSKAT play loud, alternative rock 'n' roll.


Facebook event: https://www.facebook.com/events/209681652947770/