zaterdag 26 augustus 2023
Sisters of Suffocation + Buried
Death metal
Gouda Meltdown: Hoog tijd voor weer eens een Death Metal avond in StudioGonz! Dat vonden deze twee geweldige bands ook, dus zaterdag 26 augustus komen ze het dak eraf blazen!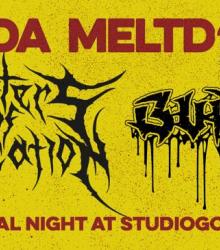 StudioGonz
Zaal open: 21:00 uur
Aanvang:
Deur sluit: 00:00 uur
Tickets Niet-leden:

€14.00


Tickets Niet-leden VVK:

€12.00



Tickets Leden:

€9.00


Tickets Leden VVK:

€7.00




*** Sisters of Suffocation ***
S.O.S is an Eindhoven-Based Death Metal band determined to spread their love for extreme music.
In april 2016 bracht de band een eerste single uit: Boundaries. De eerste EP Brutal Queen uit 2016 verscheen in eigen beheer. In september 2016 werd de EP opnieuw uitgegeven door Hammerheart Records. Het eerste album werd in 2017 uitgebracht op Suburban Records,
De band trad op op verschillende festivals, waaronder: Eindhoven Metal Meeting (NL), Stonehenge Festival (VK), Antwerp Metal Fest (België), Gäfle Metal Fest (Zweden), Zwarte Cross (NL) en Lowlands (NL), en vanavond in StudioGonz!


Meer info:
https://www.facebook.com/sistersofsuffocation
*** Buried ***


Dit jaar op Baroeg Open Air 2023 maar vlak daarvoor nog te zien in StudioGonz met hun verpletterende death metal!


We are BURIED, a band that pays tribute to old school Death Metal, but with a contemporary feel. Bands like Suffocation, Revocation and Decapitated are big influences on our sound. The band was founded in 2007 by guitarist Steve and reached its current shape in 2017. This was after vocalist Joel, bassist Worm and drummer Robbe V had joined the band, all former members of death metal bands Disavowed, Pyaemia and Arsebreed. After releasing several demos over the years, our debut album OCULUS ROT was released 14 February 2021 on Brutal Mind records. Our home base is in Rotterdam, The Netherlands.


Meer info:
https://www.facebook.com/buriedmetal

Facebook event: https://fb.me/e/7U8HAFAyQ