vrijdag 26 januari 2024
..... Of Sharks and Lasers!
Grindpad + Taskforce Toxicator (DE) + Narcolepsy
Triple Thrash Treat! Grindpad en Taskforce Toxicator nodigen je uit voor een Thrash party in StudioGonz. Het Haagse Narcolepsy zal deze avond openen. Kom dus in grote getale en maak er een knaller van!
Deur open 20:00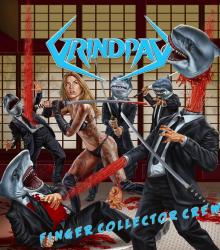 StudioGonz
Zaal open: 20:00 uur
Aanvang:
Deur sluit: 00:00 uur
Tickets Niet-leden:

€12.00


Tickets Niet-leden VVK:

€10.00



Tickets Leden:

€10.00


Tickets Leden VVK:

€8.00



koop tickets
// Grindpad //

Grindpad was formed in 2006 playing a mix of death thrash. They released 2 EP's before winning the Dutch metal battle in 2010. After this the band decided to focus more on the music they really wanted to make and are a big fan of. This resulted in some changes and a focus on thrash metal with hardcore and speed metal influences. The new Grindpad was heavily influenced by bands like Exodus, Slayer, Pantera, Metallica, Agnostic Front etc.

After recruiting ex-Sinister Drummer Paul Beltman, the band released the Sharkbite! EP in 2017. With cover art drawn by Ed Repka this EP was met with great acclaim across the world. Reviews regularly praised the good songwriting, tight guitar riffs, energy and aggression on display.

On the stage Grindpad explodes with the same energy and had made a name for themselves with their energetic live shows.

In 2020 Grindpad teamed up with Iron Shield records for the release of "Violence" , their first full length album, produced by Jörg Uken at Soundlodge studios and with Ed Repka once again handling the artwork.

https://www.grindpad.com/
https://www.facebook.com/Grindpad

// Taskforce Toxicator (DE) //

Taskforce Toxicator is an old school thrash metal band from Münster. Kicking your ass since 2017!

Taskforce Toxicator started out in 2017 to bring their vision of old school thrash metal to life. In their songs, a group of out-of-space mercenaries tells their adventurous tales. Abduction by aliens, battles in space, laser katanas – Taskforce Toxicator will draw you into a universe of crazed characters. Serving as a memento of our society, this dystopian vision does not hold back on criticism on current global political affairs.

https://taskforce-toxicator.de/
https://www.facebook.com/taskforcetoxicatormetal

// Narcolepsy //

Opener van de avond. Uit Den Haag.

Facebook event: https://fb.me/e/3jftOyduu