zaterdag 19 januari 2013
De Koffers Vote!
YOU have the power to vote!
De Koffers, een allround coverband, inzetbaar voor de meest geslaagde feestavondjes! Van Caro Emerald tot Lady Gaga, Kane en Gus Meeuwis, David Guetta en The Jacksons, Stevie Wonder, Bryan Adams, Nina Simone, en zo kunnen we nog even doorgaan!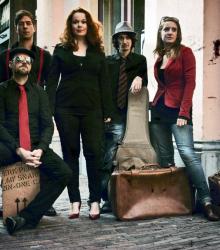 StudioGonz
Zaal open: 21:00 uur
Aanvang:
Deur sluit: 01:00 uur
Tickets Niet-leden:

€5.00


Tickets Niet-leden VVK:

€4.00



Tickets Leden VVK:

€2.00




Alles valt in het feestrepertoire van De Koffers! Vanavond staan ze in StudioGonz met een UNIEK concept voor bands! Bij binnenkomst ontvang je een stemkaart, waarmee JIJ kan bepalen wat het volgende is wat de band gaat spelen. Supervet he! Mis het niet, deze avond staat garant voor een heerlijke en unieke bandavond!
Facebook-event:
https://www.facebook.com/events/113105892198864/