vrijdag 24 mei 2013
As prayers fail
Support: A constant reminder + Clear the skies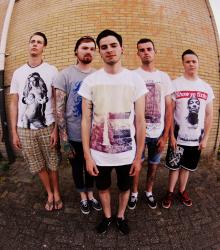 StudioGonz
Zaal open: 21:00 uur
Aanvang:
Deur sluit: 01:00 uur
Tickets Niet-leden:

€6.00


Tickets Niet-leden VVK:

€4.00



Tickets Leden VVK:

€2.00




As Prayers Fail was born in mid 2010. In march of 2011 they launched their first EP "A Siren Called Jade". Their single "Capsized Kings" has been released on January 2th. In May they released their full length album "Shipwrecked"! After 2 Europe tours they are working on new material.

A Constant Reminder brings Metalcore from Rotterdam.
Clear The Skies - Metalcore!
---
As Prayers Fail - Shipwrecked

A Constant Reminder - Fallen Kings (Rehearsal Clip)

Clear The Skies - LCTD