vrijdag 27 september 2013
Polydrone + Magnacult + New World Disorder
Death/Trashmetal & Mixed Grill Metal
Get ready to bleed!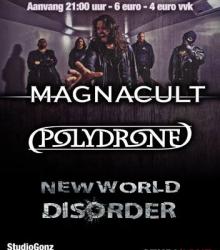 StudioGonz
Zaal open: 21:00 uur
Aanvang:
Deur sluit: 01:00 uur
Tickets Niet-leden:

€6.00


Tickets Niet-leden VVK:

€4.00



Tickets Leden VVK:

€2.00




Dutch metalband Polydrone is comprised of five motivated and talented musicians. Most with experience in former bands and all with a passion for music. Because of their skills and knowledge, the three initial members (Jeff, Niels and Wouter) recorded the first demo 'Retrolution' in the beginning of 2008 the DIY way (arranging everything, from the recordings to the photography, themselves). In a luxurious villa during a weekend of beer, gaming, beer, lack of sleep, beer, headaches and Dutch delicacies like 'bitterballen' their first demo became a fact. This demo, which was released in June 2008, was used to find the missing band members with the same ideas, devotion and geekness to complete Polydrone.
After a couple of dozen shows in Holland and Belgium in big venues like Het Patronaat, Tivoli de Helling (twice), Het Kasteel (twice), P60 and Panama with bands in the likes of Morda (BE), Crimson Falls (BE), Blindsight, The Lucifer Principle, Murder Manifest, and many more, Polydrone is starting to claim there position in the scene. After a very successful start and with shows on the agenda in Holland and abroad, Polydrone is well on their way to a great future.
When Polydrone works their magic, you know you have to go
apeshit during their no-nonsense songs and performance.
So keep an eye out for Polydrone!

Download our songs (for free!):
http://polydrone.bandcamp.com/album/2
http://polydrone.bandcamp.com/album/promo-2010

From the first tones the shit hit the fan and the crowd went berserk. Their vocalist knows exactly how to interact with the crowd and pushes them to another level that finally results in a huge circle pit. It's pretty clear that this is one hell of a band that knows how to handle a crowd. – metalrage.com. MagnaCult is back – angrier than ever, and ready to crush you with their second album, Insua EnVenom. With their signature mix of thrash and death metal, MagnaCult turns up the volume. Get ready to bleed: MagnaCult's killing season is open.

With their second album, Insua EnVenom, MagnaCult – Seb (vocals), Spit (bass and backing vocals), Tomas (guitar, acoustic), D. (guitar, acoustic), and Bionic (drums) take their sound to the next level. More brutal and technical than their 2007 debut Synoré, Insua EnVenom is faster and more powerful, packed with massive guitar solos and full of groove.

"Insua EnVenom means true inner strength," explains Bionic. "Everyone has inner strength, but it's only the person who livesin an advanced state of self-consciousness who can force themselves to become the best they can be. Putting yourself down with words, behavior, drugs and thoughts will keep you from attaining this power. And there are always external forces that will try to make you fail. This is the main subject of MagnaCult's new album Insua EnVenom."

The band has toured through Europe, sharing stages with DevilDriver, Ill Niño, Five Finger Death Punch, Shadows Fall and Kittie. "Touring with these awesome, hard-working bands was an amazing experience," says Tomas. "We can't wait to get back on the road and crush audiences with our new record – we're ready to take MagnaCult to the next level," adds Seb "I know our fans will enjoy our new songs," adds Spit. "They understand where we come from, what MagnaCult is about. They are our army and continue to stand side by side with us. We're ready, we're hungry, we're angry. We're MagnaCult!"
Facebook-event:
https://www.facebook.com/events/597156170303899/
---
Polydrone - Promo

MagnaCult - Torment