zaterdag 20 juli 2013
The Machine + The Grand Astoria (RU) + Sun Rider
Loud & Heavy Stoner Rock!
Powered by Dutch & European Stoner Rock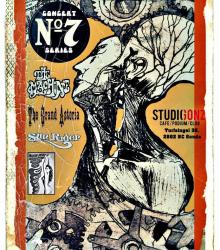 StudioGonz
Zaal open: 20:00 uur
Aanvang:
Deur sluit: 01:00 uur
Tickets Niet-leden:

€6.00


Tickets Niet-leden VVK:

€4.00



Tickets Leden VVK:

€2.00




The Machine is a power trio from the Rotterdam area, The Netherlands. Their music characterizes itself as powerful with a lot of dynamics: ranging from hard-hitting rock to spaced out jams with a more experimental approach. Their very own sound is a compromise between organic and groovy drumming, inventive low end pounding and a punishing wall of guitar with some old school lead work. Since forming in 2007, The Machine released several albums and played at some amazing occasions – among them are the fantastic Roadburn Festival (2010 & 2011), Burg Herzberg Festival (2011), DunaJam Festival (2012) and numerous club shows throughout Europe. They're currently signed to Elektrohasch Records. Go out and see The Machine live: the shows are loud and heavy, while the band tends to include some improvisational parts in their set.

The Grand Astoria was formed in April 2009 by guitarist and singer Kamille Sharapodinov and guitarist Igor Suvorov from Saint-Petersburg. Their previous bands gave them lots of live gigging and studio recording experience. So, it took his new band only a few months to produce the debut eponymous album and win the audience in both Russian capitals with explosive, loud and fuzzy music which they billed as "psychedelic stoner punk".
From Dordrecht,The Netherlands comes Sun Rider. A five piece Stoner rock ensemble. Heavy riffs, epic guitar solos and psychedelic effects will bang and blow your mind! Mixing up different styles of the heavier rock Sun Rider will leave you with bleeding ears, a sore neck and a grin from ear to ear!
The Machine: https://www.facebook.com/themachine.nl
The Grand Astoria: https://www.facebook.com/TheGrandAstoria
Sun Rider: https://www.facebook.com/pages/Sun-Rider/221403751252823

Dutch & European Stoner Rock:
https://www.facebook.com/groups/benjaminastoneRock/
https://www.facebook.com/DutchEuropeanStonerRock

---
The Machine at Feierwerk Munich

The Grand Astoria - Space Orchid vs Massive Drumkit

Sun Rider - Freeride