vrijdag 22 november 2013
Melissa Jo Heathcote + Wavedance + Ellie Jamison
Jazzy, eigentijds en vet!
Melissa Jo Heathcote & Wavedance & Ellie Jamison, vanavond staan er 3 acts klaar voor je: jazzy, eigentijds en vet!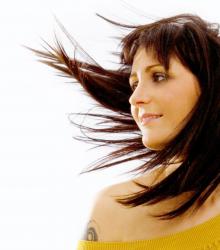 StudioGonz
Zaal open: 21:00 uur
Aanvang:
Deur sluit: 01:00 uur
Minimumleeftijd: 14 jaar
Tickets Niet-leden:

€6.00


Tickets Niet-leden VVK:

€4.00



Tickets Leden:

€4.00


Tickets Leden VVK:

€2.00




Melissa Jo Heathcote started singing whilst still at school on the Surrey/ London borders in the Eighties. Along with her best friend, she would change out of school uniform in the ladies loos of well-known London music venues Dingwalls, The Dublin Castle and The 100 Club to sing with already established musicians such as Roddy Radiation from The Specials and Charlie Harper from UK Subs.
A career followed as front woman for pop group The Trudy, backing singer for pop group Shampoo and as a regular studio session contributor for countless recordings including the Easy Acess Orchestra's chill out hit 'Fooling Myself', a favourite of DJ Gilles Peterson. Melissa has remained true to her roots by specialising in her live sets in the Jazz Standards her parents enjoyed listening to throughout her childhood and the pop/punk she established her career on.
These days, as a composer for musical library tracks, Melissa includes her own compositions into the set, adding a folksy, upbeat feel on the ukulele. She has been described as having the voice of an angel on stage and the vocabulary of a sailor off it! She will be accompanied by virtuoso jazz and rock guitarist Simon Picton, best known for his Trad Jazz banjo picking at festivals and even funerals all over England. An evening in their company promises to be entertaining and beautiful in equal measure.
Wavedance combine the unique sound of the Chapman Stick (Dave Bowmer) with mesmerising Percussion (David Holmes). Their atmospheric instrumentals are inspired by the Ocean; riding waves and Dave's surfing travels. Their music is used for film, dance performance and visual art.
"Great music, beautiful sounds"... Magredea; "Our surprise hit of the weekend" … Riverside Festival; "Just been to a great gig to see Bowmer & Co (Wavedance)... Innovative, different, skilful, subtle and inspiring … I want to go form a tribute band of him! Viva la difference"… Dr Simulacrum.
Ellie Jamison started singing and performing at the age of 9 in local venues in Oxford and London. Age 15 she learnt to play acoustic guitar, and started writing songs. Over the years she has worked with many bands and solo artists including 'The Easy tigers', Matt sage and the Orchestra of love, Zap mama's 'Anita Daulne' and The Confidential Collective, as well as artists on the Folk scene, Barney Morse-Brown (of Duotone) Lisa Fitzgibbon and Abbie Lathe.
Her biggest musical experience came at the age of 18 when she became a member of the original Celtic/African crossover band 'Baka Beyond', touring and performing regularly with them as well as featuring on recordings and in 2010 her song 'See no evil' was remixed by Crazy P. Ellie is at long last now venturing out on her own as a solo acoustic performer.
Her depth of vocal tone and ease of delivery combined with soulful harmonies and heartfelt lyrics will take you on a musical journey perfectly expressed through her carefully crafted songs and performances all delivered with meticulous attention to detail.'
Facebook-event:
https://www.facebook.com/events/276200019185276/
---
Ellie Jamison - Cardboard Dreams

Melissa Jo Heathcote - Dream In Lilac

Wavedance by Dave Bowmer