vrijdag 8 november 2013
Encorion + Conorach + Gloria Victis
Pagan Metal en Power Metal
Donker, mistig en melodieus!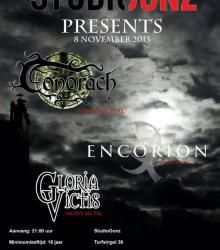 StudioGonz
Zaal open: 21:00 uur
Aanvang:
Deur sluit: 01:00 uur
Minimumleeftijd: 14 jaar
Tickets Niet-leden:

€6.00


Tickets Niet-leden VVK:

€4.00



Tickets Leden VVK:

€2.00




Encorion
From the misty islands and riverbanks of the southern Netherlands, Encorion, a five headed pagan metal horde has awakened from the ashes of long forgotten bands and projects. Sprung from the mind of Danny de Graaf (founder/guitarist) out of a passion for metal, classical and folk music and a romantic notion of European culture in a time before the rise of Christianity. Soon joined by his brothers in arms and cousins Michael Dubbelt (bass/clean vocals) and Raymond Dubbelt (vocals) in the winter of 2007, Encorion gained a physical form. With almost an album's worth of demo recordings new blood was soon found in Jark Zilverentant (drums) and Tessa Freeke (violin, string and wind instruments) and the first battles were fought in venues across the Netherlands and Belgium.
Battle-hardened and armed to the teeth, they headed to Phonology studios for two solid weeks of recording and emerged with "Facing History and Ourselves" as the spoils of war. An alliance was cemented with Sleaszy Rider Records and the first offering was released upon the world on the 7th of March 2010.

Summers came and winters passed. Battles were fought with various shield brothers like Adorned Brood, Skyforger, Omnia, Slechtvalk, Conorach, Grimhorde, Vanir, Myrkvar, Mondvolland and Chain of Dogs; on the battlefields of Wolfstijd, Summerfest, Power Folk Festival, Einherjar Fest, Midzomerfair, Light a Pagan Fire and In Walhalla!

Strengthened by the experiences of recording, live performances and rehearsals, the original fire was rekindled to write a stronger, heavier and more inspired album. The fire soon blazed bright in the heart of Encorion as new material sprung from a reborn creativity. Five hearts, now more than ever, acting with one common goal. Spread out over three months and two different studios, "Our Pagan Hearts Reborn", a new musical journey through time was realised. With a bigger musical contribution from the individual members, more instruments and guest appearances.


Conorach
Conorach are a Power Metal band from Rotterdam, The Netherlands. Their music can best be described as a mixture between the sheer power of Metal and the gripping melodies of traditional European Folk music. Tall tales of historic events, from epic battles to the merits of individual heroes are complementing the songs, always brought with a sharp tongue.
Conorach finished their first release "A New Day Rising" in 2006. After many gigs the band prepared for their debut album "Tales from the Tavern", released in 2008. The album received many positive reactions, not in the least from acclaimed Metal press such as Aardschok ("Fine debut") and Metalfan.nl. In 2010 the band released the two-track EP "42 Days/Patriot's Song".
They are known for their dynamic live shows that leave the crowd wanting more. Amongst others, Conorach shared the stage with Rage, Freedom Call, Ross the Boss, Eluveitie, Heidevolk, Lord Volture and Roadkill. Ever pushing the boundaries of a traditional Metal band, the band has twice taken up the challenge to perform fully acoustic.
The band has been writing and recording exciting new songs, and they will be releasing a brand new full album in the fall of 2013. Conorach is always eager on playing and planning new shows. Expect to see and hear a lot of Conorach so keep your eyes and ears peeled!
Facebook-event:
https://www.facebook.com/events/405560989564597/
---
Encorion - Spirit, We Are One

Conorach - 42 Days