vrijdag 4 oktober 2013
All Downhill From Here + The Lost Boys Club
Pop/punk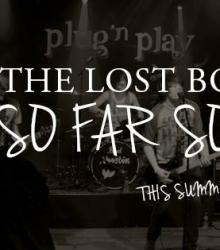 StudioGonz
Zaal open: 21:00 uur
Aanvang:
Deur sluit: 01:00 uur
Tickets Niet-leden:

€6.00


Tickets Niet-leden VVK:

€4.00



Tickets Leden VVK:

€2.00




All Downhill From Here formed in October 2011 in Geleen/Beek, The Netherlands. In a short amount of time they released their first demo "The Journey", played shows at venues like Fenix (Sittard), Nieuwe Nor (Heerlen) and earned a place at Mama's Pride Festival (Geleen). After the summer of 2013 the band is planning on releasing their debut EP.

Played Mama's Pride Festival, Geleen
Played venues like De Bosuil (Weert), Fenix (Sittard), Nieuwe Nor (Heerlen)
Headliner PopSport Promo Tour 2013
Upcoming shows in Germany, Belgium and festivals like Breakfest (Landgraaf) and DVERS (Sittard).
Winner Popsport Limburg 2013 and Podiumvrees 2013
www.facebook.com/ADHFH
Poppunk. A genre that isn't well represented in The Netherlands. The sympathy for the style seems to drift to the European Mainland. A love that has been shared for years by four young guys from the environment of Hilversum. Vocalist/Guitarist Nick Brummer searched for support in soul mates after the end of poppunkband Good Things in September 2012. He found those soul mates in Bart Eijk, Daan Brink and Bas Frishert. All of them whom grew up listening to the contagious melodies of bands such as Blink 182, New Found Glory etc. A pact was concluded.
The Lost Boys Club
was born.
The Lost Boys Club released their debut-EP 'From Here On After' on November 12th 2012. A herald of what's coming in the future. A collection of five first class pop punk tracks with a whip of easycore: high tempo's, melodic and not scared for a trip to the heavier genres.
The plans for these four are clear: getting poppunk back on the map in The Netherlands. To fulfill their mission they will have to play wherever they can, sleep in living rooms and live in vans.
www.facebook.com/lostboysclub
Facebook-event:
https://www.facebook.com/events/159015767630721/
---
All Downhill From Here - State Of Decay (Official Music Video)

The Lost Boys Club - When We Were Young (Ft. Scott Sellers)