vrijdag 6 december 2013
DieselBurner + Green Disease + A Giant A Genius
Een lekkere mix van rock, hardrock, stoner, grunge en pop.
2 guys making noise for 20! Don't believe us? Come check it out!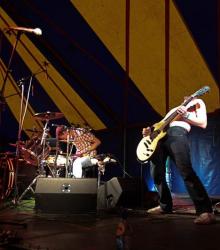 StudioGonz
Zaal open: 21:00 uur
Aanvang:
Deur sluit: 01:00 uur
Minimumleeftijd: 14 jaar
Tickets Niet-leden:

€6.00


Tickets Niet-leden VVK:

€4.00



Tickets Leden VVK:

€2.00




DieselBurner
DieselBurner is a earth-stomping and fire-breathing rock band from the Netherlands. This duo with Ronald on drums and Barry on guitar and vocals was formed early 2012. Inspired by the greatest bands that ever walked this earth they play rock at 1.21 Gigawatts! 2 guys making noise for 20! Don't believe us? Come check it out!
Green Disease
Green Disease is a hard rock band which takes its name from the eponymous song about greed by Pearl Jam. The band is known for the energy and loudness that they give on stage. Their music is solid hard rock with many influences from rock music of the 90s. Their setlist consists of their own songs together with some classics.
A Giant a Genius
Hailing from the south of the Netherlands, this four piece started out in 2009. Their music is often described by the media as heavy, layered and hypnotizing. Their style is a mix between stoner, grunge and pop. Some songs could easily be used as a film score according to Bertus de Blauw (i.e. Lowlands). The members of A GIANT A GENIUS are inspired by many bands but have truly managed to create their own sound.
Facebook-event:
https://www.facebook.com/events/205563586280220/
---
Dieselburner - Dead Stop

Green Disease - Lifetime Punishment

A Giant A Genius - Hall Of Oathes