zaterdag 21 december 2013
StudioGonz presents Vinyl Rave
Oldschool, Early Rave, Hardcore
Vinyl Rave: Oldschool, Early Rave, Hardcore. Back to the roots!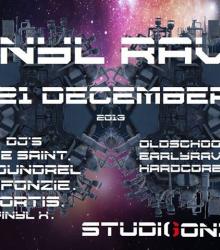 StudioGonz
Zaal open: 21:00 uur
Aanvang:
Deur sluit: 01:00 uur
Minimumleeftijd: 14 jaar
Tickets Niet-leden:

€4.00


Tickets Niet-leden VVK:

€2.00



Tickets Leden VVK:

€1.00




Vinyl Rave is een concept gebaseerd op de sfeer van de grote rave's van vroeger. Het echte gabber gevoel is wat we willen creëren. En dat is stampen met goed geluid, lasers en een goed gevulde bar. Met dj,s die staan te springen om de tent op z'n kop te zetten.
Deze avond zal er van oldschool tot nieuwere hardcore worden gedraaid. Dus trek je nikes en je aussie aan en kom hakken op de VINYLRAVE de EARLYRAVE editie.
Line-up:
The Saint

Scoundrel vs Fonzie

Mortis

Vinyl X
Facebook-event:
https://www.facebook.com/events/384027555063231/