vrijdag 27 december 2013
Bud Spencer Rock Explosion + The Fabulous Fords
Rock 'n roll, garagerock, punk, surf en blues
Alle ingrediënten voor een uitstekende bak herrie!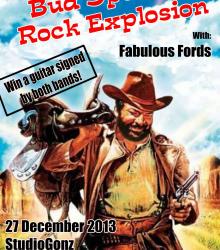 StudioGonz
Zaal open: 21:00 uur
Aanvang:
Deur sluit: 01:00 uur
Tickets Niet-leden:

€6.00


Tickets Niet-leden VVK:

€4.00



Tickets Leden VVK:

€2.00




The Bud Spencer Rock Explosion is a new band from The Netherlands. Explosive and easy rocksongs (and some country hick-ups) that will give you a Bud Spencer punch... After an explosive rehearsal in 2013, the band was born. Explosive Rock n Roll that will punch you in the face like a bad action movie!

Fabulous Fords is een rawk 'n roll band opgericht in November 2010. Bij deze Arnhemse viermansformatie vieren inlvoeden van rock 'n roll, garagerock, punk, surf en blues hoogtij. De bezetting is eenvoudig; stevige drums, groovende bas, rauwe gitaarsounds en krachtige, rauwe vocalen van de zanger die nog wat meer hout op het vuur gooit..
"Krachtige, opzwepende nummers en meezingbare koortjes vermaken het publiek zonder de rauwheid van rock-'n-roll kwijt te raken. Alles is aanwezig, van de hillbilly americana waarbij je "Wieeeehaaa!," wil roepen, tot riffs die aan de surfmuziek doen denken. Wat hebben we hier? De gitaarslides, de solo's, krachtige drums, punk en rauwe garageblues… In het kort:the whole shebang! Ingrediënten voor een uitstekende bak herrie, maar zeker weten een zeer goeie!" Maria Reljic 3voor12.vpro.nl
Facebook-event:
https://www.facebook.com/events/195651197289406/
---
The Bud Spencer Rock Explosion - Bucksnort Tennessee (Part 2)

Fabulous Fords - Johnny's got a Bang Bang