zaterdag 15 maart 2014
Ancient Monstrosity + The Slaughter + Bloodsphere
Death metal/trash metal
Zaterdag 15 maart spelen de death/trash metal bands Ancient Monstrosity, THE SLAUGHTER en Bloodsphere in StudioGonz.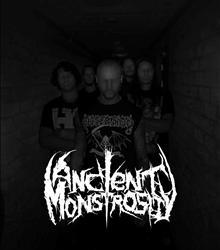 StudioGonz
Zaal open: 21:00 uur
Aanvang:
Deur sluit: 01:00 uur
Tickets Niet-leden:

€4.00


Tickets Niet-leden VVK:

€2.00



Tickets Leden VVK:

€1.00




Ancient Monstrosity,
Ancient Monstrosity is een technische death metal band uit de kop van Noord-Holland. Met immense blastbeats, brute beukstukken en meeslepende melodieën zal deze band je versteld doen staan.

The Slaughter
The Slaughter is a 5-piece melodic death metal band out from the dungeons of Rotterdam, the Netherlands. Main inspiration is drawn from the ancient Scandinavian death metal gods of Bloodbath, At the Gates, Soilwork and the Haunted.

The Slaughter was formed in the summer of 2012, with one goal in mind… make brutal melodic death metal!! A couple months and a few personnel switches later the band was formed. With former When All Life Ends, Bound in Blood, Balthazar and Pyroclast members Gijs van de Kerkhof (drums), Jeroen van der Poll (vocals), Emile Hoogendoorn (bass), Bryan Klooster (guitar) and Peter Dekker (also guitar) they have a steady line-up.

The Slaughter have released their first 3 track demo in october 2013. With this material they are determined to hit the stage hard!! The Slaughter will come to destroy and ravage your towns very soon!

Blood will be spilled!!

Hail The Slaughter!

Bloodsphere
Bloodsphere is een Zuid-Hollandse Death/Groove metalband opgericht in 2013. Deze vijf gemotiveerde heren hebben een wijd uiteenlopende muzieksmaak, die ze tot een groovend en beukend geheel brengen.
Deze band hebben eigenlijk maar een doel: zorgen dat iedereen aan het headbangen slaat en je aan het einde van een show maar 1 woord weet te schreeuwen.......... BLOODSPHERE!
Facebook-event:
https://www.facebook.com/events/629207543826221/