vrijdag 23 mei 2014
Fucking Virgins + Geenitalië
Punk rock en hardcore bizarre covers
Een avond vol punk rock en hardcore bizarre covers...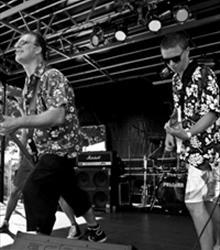 StudioGonz
Zaal open: 21:00 uur
Aanvang:
Deur sluit: 01:00 uur
Tickets Niet-leden:

€6.00


Tickets Niet-leden VVK:

€4.00



Tickets Leden VVK:

€2.00




The Fucking Virgins!
The unusual band name has nothing to do with virgins having intercourse, but the original idea came from the record label Virgin that had transformed from a punk label to a mega bucks label!!! Fuck Virgin was an often heard term, hence the name!
"Echte Bossche bollen haal je bij Jan de Groot, Echte punk bij de fucking virgins" (Brabants Dagblad)
"Zoo Jammer dat het niet mijn begeleidings band is…" Eddy Wally
https://www.youtube.com/watch?v=oL2K4SRHoD0&feature=youtu.be
GeenItalië
Aan malt bier en scheren doen deze heren niet. Wel maken ze strakke punk muziek hoe het bedoeld is. Met een sterke dosis humor zing je de aanstekelijke teksten zo mee. Een lust voor het oor EN oog, want ze zijn namelijk ook niet vies van een verkleedpartijtje. Verassend, inspirerend en zeker fascinerend. Zij maken van iedere gelegenheid een feestje. Of een chaos.
https://www.youtube.com/watch?v=kcpGHRXCMYA&feature=youtu.be
Facebook evenement:
https://www.facebook.com/events/610015069067481/?context=create&source=49
Facebook-event:
https://www.facebook.com/events/610015069067481/