zaterdag 6 december 2014
Melaina + Alantia + La Ventura
Pop rock/symphonic metal
Wij zijn trots te melden dat deze band hun eerste show bij ons komt doen.... DUS MIS HET NIET!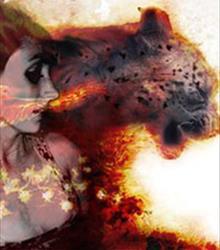 StudioGonz
Zaal open: 21:00 uur
Aanvang:
Deur sluit: 01:00 uur
Tickets Niet-leden:

€6.00


Tickets Niet-leden VVK:

€4.00



Tickets Leden VVK:

€2.00




Wij zijn trots te melden dat MELAINA hun eerste show bij ons komt doen.... DUS MIS HET NIET
Melaina
When the beautiful and haunting voice of Melaina (Transentience, Urlicht) met the romantic and passionate piano playing
of George (Secret Sounds, Kingfisher Sky) it was clear that a joining of their talents was inevitable and just waiting to happen.
After separate ways the moment is there and a strong flow of inspiration resulted in a first collection of unique songs.
With the addition of drummer Barry Scheepers and guitar player Mickeal Schuurman more magic is possible.
Alantia
Alantia is a 6 piece symphonic metal band based in Amsterdam. In their current line up they have been active since early 2009 playing melodic metal in the style of bands like Nightwish and Sonata Arctica. The 80's influences from bands like Metallica and Iron Maiden can also be heard. The music consists of powerful guitar riffs, expressive keyboard parts and emotional singing. Catchy tunes are easily followed up by songs with a more complex structure. After the initial demo release in 2010, Alantia has spent most of its time playing gigs. Playing with other Dutch bands and also some European and south American bands. At the same time the band spent time writing and rehearsing new material. September 2012 saw the release of their first full feature EP "Remnants of a Dream" Featuring their new singer, and overall more complexity in the songs. Having had a successful release party in Amsterdam and other shows throughout the country they are currently working on their first full-length concept album about the legendary travels of Willem Barentsz to Nova Zembla.
La-Ventura
From the independent release in 2013, the work involved to get the name out, brings us to 2014.
The year that La-Ventura is BACK!
The band released the album "White Crow" in parts of Europe by not one but two labels. The reviews collected during the promotion were all positive ranging from ecstatic to masterful!
Of course playing live, could not be ignored. The band started small but has ended up playing at the big league of Female Fronted bands: Metal Female Voices Fest edition XII in 2014!
Though opener on the Saturday, it blew people away by the energy and commitment on stage.
People spoke about; "surprise of the festival"!
A signing session of 40 minutes topped it all of: this band are there for the fans.
"White Crow" the album was recorded in a professional studio in France, the way it should be, under the watchful eye of producer Didier Chesneau. Mastering yet again done in France, by one of the bigger names in the bizz: Bruno Gruel.
These factors make the new sound of the band which is huge, broad, massive and with conviction.
Rest assure that the future of this band is now progressing to higher levels. The band will play live more and more in Europe. 2015 will be the year of new music and new frontiers. Check this band out and witness their energy on stage LIVE!
Facebook evenement: https://www.facebook.com/events/274778242733462/274778896066730/?notif_t=like