zaterdag 21 maart 2015
Eager + The 3rd Man
Alternatief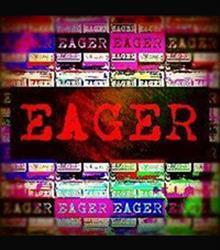 StudioGonz
Zaal open: 21:00 uur
Aanvang:
Deur sluit: 01:00 uur
Tickets Niet-leden:

€6.00


Tickets Niet-leden VVK:

€4.00



Tickets Leden VVK:

€4.00





Eager zou je heel makkelijk in een hokje kunnen stoppen en een label op kunnen plakken. Daar heb je dan echter wel veiligheidshandschoenen en een harnas voor nodig. Als er al een vlag wordt gehesen is het de vlag van eigengereidheid. Op het podium vertaalt zich dat in muziek die vanuit het diepst van de ziel gemaakt wordt en die de urgentie van het vertelde verhaal nooit uit het oog verliest. De term "muziekstijl" staat niet in Eager's woordenboek. Inpluggen en spelen is het devies.

THE3rdMAN
THE3rdMAN is a three-piece rock band featuring Jo De Roeck, Carlos Lake and Richie Bleijenberg. Together they write and perform rock songs and power ballads. While making their own contemporary music, they'll still give you a close reminder of the big hard rock bands from the seventies. Their rock is in your face and their lyrics are melancholic, funny or just plain rock 'n roll poetry. Jo's raunchy sounding vocals and great skills on guitar, Carlos' soulful bass playing and young Richie's major kicking behind the kit, make THE3rdMAN a must see and hear on stage.
Facebook-event:
https://www.facebook.com/events/335997766588927/