vrijdag 24 juli 2015
Rouge United + The Frontlines
Pop-rock-grunge-rock'n roll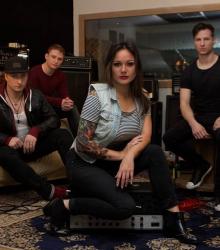 StudioGonz
Zaal open: 21:00 uur
Aanvang:
Deur sluit: 01:00 uur
Tickets Niet-leden:

€6.00


Tickets Niet-leden VVK:

€4.00



Tickets Leden VVK:

€2.00




Rouge United
Een sexy bite, een kneepje heaviness, een kleine dosis humor en een paar geheime kruiden maakt de female fronted Rouge United een stevig potje pop-rock!

No matter where, no matter when, there's no time to waste. They rock with style! Just like the lemon after your tequila!

The Frontlines
Een mix van grunge, punk, rock 'n roll en hardrock omschrijft de muziek van deze toffe Gouds-Delftse band.
Facebook-event:
https://www.facebook.com/events/893270317398193/