vrijdag 5 juli 2013
Stealers + Liar's Dice + Asscracks
Punk & Rock-'n-Roll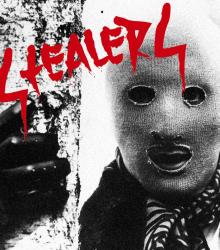 StudioGonz
Zaal open: 21:00 uur
Aanvang:
Deur sluit: 01:00 uur
Tickets Niet-leden:

€6.00


Tickets Niet-leden VVK:

€4.00



Tickets Leden VVK:

€2.00




Stealers
.... are a rogue mob existing of 4 city boys gone wild! They have been spotted since the summer of 2007. Since then, several attacks on law abiding citizens occurred viciously out of the blue. Their goal: To deafen the land and make people listen to nothing else but Stealers anymore. Their ways: Operating from the dirtiest city around, Rotterdam, they travel to cities everywhere. There they make alliances at venues that actually pay them to show up and perform their outrageous musical mixture of 77 Punk'n'Soul'n'80's- Cock'n'Roll! The audience doesn't even have a clue what is happening to them! The Mob steals their money, girlfriends, drinks, hearing and what more Strangely and alarming enough, this way they manage to create a growing follow- ing supporting their evil ways.

Who are Stealers? Rudo – "Teeth Rattling" Guitars Pet – "Ear Tearing" Vocals P.G. Vogeli – "Wall Breaking" Bass Gerben – "Evil Batteria" Drums. Future: Since the summer of 2007, these attacks have only grown larger and are appearing.. more and more frequently. Their ever growing following is threatening a nation and it is feared this is spreading around the world as we speak! Can they be stopped? Or more importantly, should they be stopped? I heard them play the other day and they are quite good! I'm sending them some money to help them along the way, just to see what'll happen. You should do so too!

Liar's Dice

''I know, It's only Rock and Roll, but I like it'' - Mick Jagger/Keith Richards, 1974

Met die simpele maar onsterfelijke zin is de spirit van Liar's Dice goed samengevat. Liar's Dice is een Rock and Roll band bestaande uit 5 individuen die gebonden worden door een oneindige toewijding aan muziek. Geïnspireerd door jaren 60/70 Rock, de energie van vroege Punk/Garage en rauwe Chicago Blues, maakt Liar's Dice de muziek die we zelf willen spelen en doen we dat met alles wat we hebben. Geen conventies, geen regels, geen gezeik, alleen de rauwe, harde en geile sound waar Rock in de eerste plaats altijd voor heeft gestaan. One gear: GO!
Liar's Dice is ontstaan toen Glenn Roga (drums) en Anthony Heijser (gitaar/vocals) elkaar voor het eerst ontmoetten in een coverband. Bewust van de muzikale klik die er meteen was, besloten ze samen door te gaan in een band waar ze zelf muziek in zouden schrijven. Zoekend naar bandleden vonden ze Thomas Oosterbaan (toetsen) en via Thomas kwam Kick Vogel (basgitaar) erbij. Met deze line-up werd de Liar's Dice sound ontwikkeld. De laatste toevoeging was Niek Driesschen (gitaar) die de band en het geluid compleet maakte. Deze jongens worden gebonden door een muzikale en persoonlijke klik die er op onbeschrijfelijke manier gewoon is ontstaan. Stuk voor stuk typetjes die je om 7 uur s'ochtends met een zonnebril op nog stijlvol in een after-kroeg ziet staan. Muzikanten die zich niet verschuilen achter enkel techniek, maar spelen met al het gevoel en al de persoonlijkheid die ze hebben.
Het doel van Liar's Dice is om de pure, rauwe energie van Rock and Roll weer terug te krijgen. Op het podium is dat te zien aan de volle overtuiging waarmee gespeeld wordt, alles wordt gegeven. Want ze kunnen niet anders spelen. Met pakkende riff-op-riff songstructuur, shout along refreinen, snijdende bluessolo's en keiharde beats explodeert de band recht in je gezicht. Want zo hoort het en het wordt veel te weinig nog op deze manier gedaan. Er is geen andere weg. Stones begin to roll, road without end. You gotta run, and never stop.
---
Stealers - Pretty City

Liar's Dice - Use Your Self