vrijdag 20 december 2013
Drugsmokkel + The Blues Junkies
Rock and Roll Overdose
Drugsmokkel is a female fronted ass-kicking and spitting Speed Punk'n'Roll band from the Netherlands.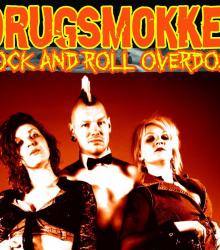 StudioGonz
Zaal open: 21:00 uur
Aanvang:
Deur sluit: 01:00 uur
Minimumleeftijd: 14 jaar
Tickets Niet-leden:

€6.00


Tickets Niet-leden VVK:

€4.00



Tickets Leden VVK:

€2.00




The girls have spine-chilling vocals that will make every grown man cry, while pounding out the heaviest, earthshaking, headbanging, face-melting, speaker-blowing riffs in rock history. Their stage presence is too hot to handle and backed up by a stripping playboy drummer trying to control this theater of madness.

The blues junkies

Hard Rockin' super sleazy bad-ass boogie boys from The Hague! Smokin'! Just guitar, bass and drums. Combined with the right bad-ass attitude. Minimal line-up, maximum deafening result. In ancient history they started out as an obscure blues-rock cover band. Hence the name.
Great years at the beach.
Fucked up by a police raid.
Years of depression and detention.
Mandatory change of line up.
But now back to their original setting.
The Blues is long gone.
Remains a kick-ass high energy rock & roll band!
Facebook-event:
https://www.facebook.com/events/375314225904688/
---
Drugsmokkel - Only Love Me At The Bar

THE BLUES JUNKIES - T.G.B.J.