vrijdag 18 april 2014
The Loving Art & The Netz Connection
60's coverband
A trip back in time … to a time they call The Sixties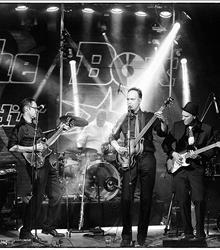 StudioGonz
Zaal open: 21:00 uur
Aanvang:
Deur sluit: 01:00 uur
Tickets Niet-leden:

€5.00


Tickets Niet-leden VVK:

€5.00



Tickets Leden VVK:

€3.00




THE LOVING ART AND THE NETZ CONNECTION
A trip back in time … to a time they call The Sixties
THE LOVING ART AND THE NETZ CONNECTION speelt covers, vooral uit de jaren 60. Beatles, Stones, Elvis, CCR, en vele anderen.
De sound en de looks van de band brengen je terug in de tijd, verweven met invloeden uit latere jaren en een touch van het nu. Het instrumentarium en de versterkers die de band gebruikt zijn, evenals de liedjes op de setlist, stuk voor stuk klassiekers.
Laat je meevoeren op de herkenbare klanken die de band brengt op hun eigen, unieke wijze. Een feest der herkenning, voor jong en oud en voor elk wat wils. Stilzitten is er in elk geval niet bij.
De band:
Jan Knetsch – Zang, basgitaar
Marco Knetsch – Zang, gitaar
Joost Könst – Gitaar
Johannes de Bie - Piano, Hammond
Rob Könst – Backing vocals, drums
Peter de Liefde – Backing vocals, percussie
Facebook-event:
https://www.facebook.com/events/660995430612720/